16 Year Old Lands 580 lb Monster Swordfish [Pics]
There are thousands of fishermen around the world who have spent millions of dollars chasing the elusive swordfish, but basically all of them can take a backseat to a teenager in Tasmania – 16 year old Kyle Longmore recently landed a 580 lb behemoth that looks to be the biggest sword ever landed in Australian waters.
Young Kyle caught the fish while competing in the Coles Bay Classic fishing tournament with Captain Leo Miller.
Miller said it was a huge test for anyone, especially a 16 year old.
"Mentally as much as physically. I think people don't realize how grueling it can be" he said.
"Kyle was very physically exhausted but you've got to concentrate extremely hard for six hours in the sun and only get a little bit to eat and drink as people feed it to you while you're fighting.
"And these fish, they don't call them the gladiators of the ocean for nothing."
Captain Miller and crew didn't initially realize they had hooked such a monster.
"We didn't think the fish was all that big at first but then it came up and jumped and we knew it was a fair size because we got a pretty good look at it and it continued to jump for about three hours," he said.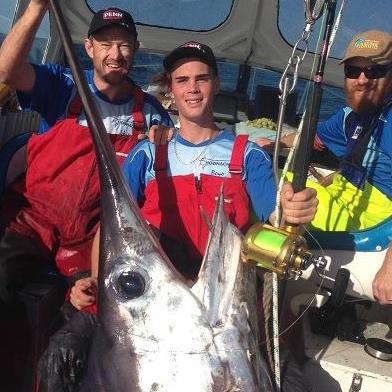 "It jumped 23 times and we gradually just got closer and closer."
Tasmania could quickly become a hotspot for the broadbill swordfish, which has enjoyed a resurgence in popularity worldwide thanks both to successful conservation efforts as well as improved techniques (and braided line) which allow for daytime catches in the ultra-deep water the fish inhabit. Tasmania enjoys extremely close runs to the continental shelf, and as evidenced by Kyle Longmore's catch, the swordfish swimming there are worth traveling across the world for…