Red Tuna Shirt Club Is Proud To Announce Our October 2015 Shirt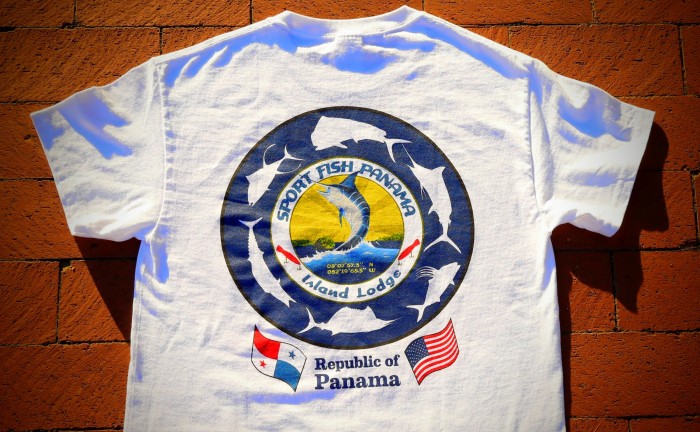 Sport Fish Panama Island Lodge from Isla Parida, Panama!
Join the club now and you could get this authentic shirt from Sport Fish Panama Island Lodge right away as your first shirt.
It is no secret that Panama is one of the world's ultimate fishing destinations.  However, many traveling fishermen are discovering a new way to experience the best of this angling mecca: Sport Fish Panama Island Lodge, Panama's exclusive island fishing resort.
Sport Fish Panama Island Lodge is a family-owned operation run by Bruce Jarvis, his wife Nancy Reagan and Bruce's son Capt. Shane Jarvis. The exotic sportfishing lodge is located on Isla Parida, a private island 12 miles off the coast of Panama in the famed Gulf of Chiriqui. The lodge is a remote oasis blessed with lush rainforests and shimmering tropical waters, but it is the incredible location that draws anglers from around the world.
From the beach in front of the lodge it is only a short run to the legendary Hannibal Bank and Isla Montuosa, fishing spots located in the middle of a perfect storm of rich currents and unique bottom contours.  Here, giant black marlin and yellowfin tuna are the primary quarry, with trophy dorado and wahoo being prevalent as well.
According to Capt. Jarvis, "Live baiting using bridled blue runners and bonito produce the most action, but we also offer kite fishing, which no one else down here offers. This method can be extremely exciting, as you witness big gamefish like tuna and sailfish crashing live baits on top."
Not to be overlooked, Sport Fish Panama also has incredible inshore fishing, with trophy roosterfish and cubera snapper lurking literally right off the front doorstep. Jigging and popping are the preferred methods for these inshore brutes, as well as for the tuna offshore.
This private island getaway offers much more than just fishing, with friendly accommodations and activities including snorkeling, jungle tours, and whale watching. However, when you're at Sport Fish Panama Island Lodge it will be hard to take a day off from fishing with the lure of giants swimming in the currents just offshore.
Sport Fish Panama Island Lodge  –  Isla Parida, Panama
FishPanamaToday.com  –  (866) 245-1492