Whale Whisperer Dances Underwater With 30 Foot Sperm Whale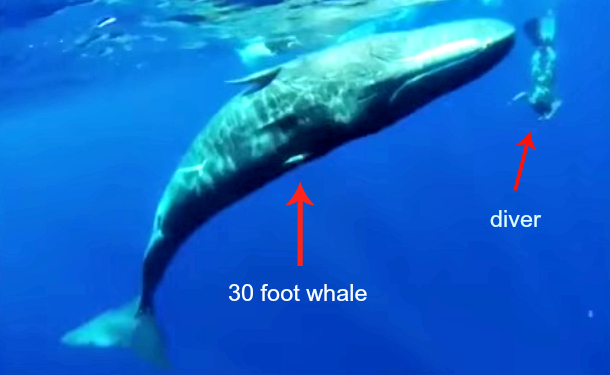 Ever Seen A Whale Dance Underwater?
It would be a truly amazing experience for anyone to get close to a sperm whale, a creature that has a heart that weighs as much two people put together, and whose teeth can be seven inches long and weigh two pounds each! But can you imagine what it would be like to get into the water and dance with such a creature?
Well, for one man this became an amazing reality. Watch others look on as he gets into the water and pirouettes with this 40 ton beast. Everyone watches in utter amazement as the whale seems to actually mimic his movements!
Who is this man and how did this come about?
Meet Caribbean tour guide Andrew Armour who has been guiding whale-watching tours in Roseau on the west coast of the Dominica for over a decade. In this time, he has developed a unique rapport with one particular young whale he later nicknamed Scar.
Andrew met this young male sperm whale calf in 2000. He had injuries on his head and dorsal fin, possibly from being attacked by pilot whales. Andrew and his wife were able to pet and comfort the whale. And so began the start of a beautiful relationship.
The unique behavior witnessed in this incredible video taken by was not planned, according to Andrew, but simply the interaction of two creatures who developed a unique rapport with one another. Reminds us of another young whale – albeit, a killer whale – named Luna who developed a relationship with humans.