Quepos – Manuel Antonio, Costa Rica Trip
We took an incredible trip to Quepos – Manuel Antonio, Costa Rica on March 30 – April 3. This was our annual fishing trip for 8 old friends, and was definitely one of the best trips we have had.
We fished 3 days (Thursday, Friday and Saturday) with John and Quepos Fish Adventures and had an excellent experience (more on John below).
On Thursday we headed offshore aboard Stress Reel-iever 1 and Stress Reel-iever 2. The conditions were perfect with flat seas and sunny skies, although we heard the fishing had slowed a bit, after a month of some of the best fishing in recent memory.
After an easy run 20 miles offshore, about 2 minutes after the lines hit the water, it was FISH ON and after a short fight we landed a sailfish…and we knew the trip was off to a good start.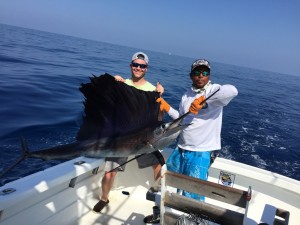 One boat went on to catch 8 sails, and the other 4. Overall it was a "slow" day for the Quepos fleet, and we had two of the more successful boats. Hard to complain about 12 sailfish!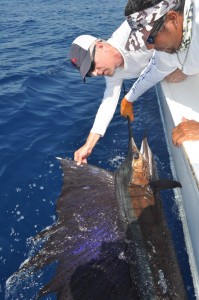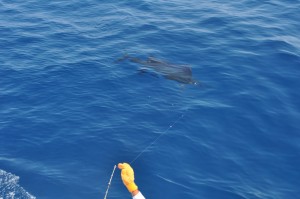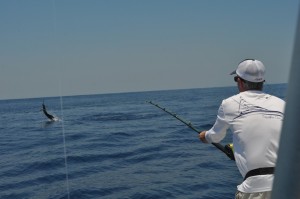 On Day 2 we went inshore for a short 1/2 day aboard Mucho Fisho 1 and Mucho Fish 2. We were told that inshore had been hit or miss because live bait was very, very hard to come by. We spent more time looking for bait but the crew did a great job of persevering and we finally had a livewell full. The fishing was a bit slow too, but I did land a roosterfish so I was a happy man! We also caught a nice Sierra that made good ceviche that afternoon, as well as some small sharks and a jumbo needlefish. Fairly slow day inshore, but it was really enjoyable spending the morning along the Manuel Antonio National Park shoreline, and hitting the beach by 1pm.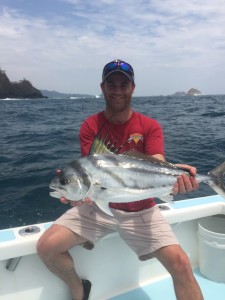 Day 3 we were back offshore. We were told the fishing the day before had been even slower than Thursday with most boats managing 2 or fewer sails, but our crew was so confident and dialed in that we were still pretty excited.
Once we neared the spot we spotted a huge school of spinner dolphin, so we trolled cedar plugs for tuna for about 30 mins. However the captain told us that the tuna had been finicky…they were gorging themselves on tiny red sardines, and wouldn't hit normal lures. Sure enough, we soon trolled right through a big bait ball of the tiny, 1″ red sardines.
After no tuna, we started trolling for sailfish, and once again – FISH ON – within the first few minutes.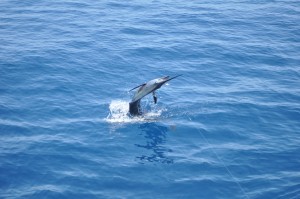 Much of the day was spent trolling around the giant spinner dolphin schools, because even though we couldn't get the tuna to bite, the sailfish were also in the immediate area and were happy to oblige. Watching my friends battle sailfish while also witnessing thousands of jumping spinner dolphins is a memory I won't soon forget.
All told, our boat landed 9 more sailfish on Saturday, while our other boat landed only 2 (they headed in early…late night). As far as i know, our 9 sails was the most of any boat in Quepos that day.
All told, our group landed 23 sailfish in 2 days fishing…not bad at all, considering the fishing was "slow".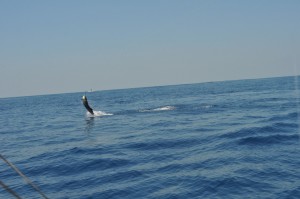 All of our fishing was with John and Quepos Fish Adventures. John has a great reputation on this board, and I can personally attest that it is well deserved. He was great to deal with and very responsive and helpful. His boats and crew were great, and unlike many charters in tourist areas, you always felt like the crew was giving 110%. We noticed lots of small touches that show how well John runs his operation.
The Quepos / Manuel Antonio area was really enjoyable. Lots of good restaurants and a very laid back, friendly atmosphere. The locals seem to really understand customer service while not making you feel like they are trying to squeeze every last dime out of your pockets.
We also hired a GREAT private chef named Paige who was another highlight of the trip. She provided breakfasts for us before fishing each morning, and prepared a great steak dinner on our last night. If you're in Manuel Antonio I highly recommend her – http://www.solprivatechef.com/
Time to book another trip!!